The perfect silk blouse in a stunning new colour
When I was deciding what pieces to design for my clothing line I knew a beautiful silk blouse would be part of it. Those I had seen on the high-street were either poor quality, clingy, see-through and/or so delicate they were impossible to wear without snagging. The perfect blouse needed to feel exquisite to wear, look effortless, sexy, understated – YES all of those things - so I gave up my search and created my own.
I am so delighted with the outcome and apparently so are you. It has become one of my best-sellers (thank you). Many of you have been asking if it comes in other colours (currently in natural or black). I'm delighted to say, as of today, it is now available in a beautiful pale pink – a stunning colour for Spring/Summer.
"The style"
The oversized floppy cuffs give this blouse a sexy understated feel; the covered buttons make it unfussy and dead cool. A single red button is its signature detailing – because as we all know "the devil is in the detail".
"The science"
It is made from crepe de chine 100% silk so feels as luxurious as it looks. It has a light weight yet is substantial enough to drape beautifully without the issues of being over-delicate and transparent.
"The feel-good"
Obviously this blouse will make you feel good but in case you needed a little more persuasion to indulge - if you purchase before the end of June, 15% of proceeds (from the pale pink) will go to support Breakthrough for Breast Cancer. Another great reason to purchase for you or someone fabulous in your life.
"The versatility"
I wear mine with my high-waisted pencil skirt or wide-leg trousers for meetings; with cigarette trousers for cocktails, and with jeans and heels for lunch with the girls.
"The inspiration"
Here are some fabulous 'silk blouse looks' to demonstrate all of the above. I should point out Victoria Beckham and Sandra Bullock have yet to call to purchase theirs (but they certainly wear a silk blouse well). I remain hopeful they will see the light and get in touch – I'll keep you posted!
Click here to find out more, place an order or arrange a fitting.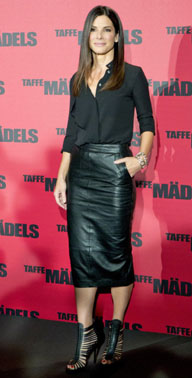 Have a great week and feel free to share this post.