The perfect Christmas gift – without the hassle…
Its official - the Christmas madness has begun. Lights have been turned on; supermarkets are selling bizarre miniature food; shops are selling glittery clothing AND it's only the 6th of November!
Many of my clients' partners and friends get in touch at this time of year to ask for gift ideas. I love that they do because I know my clients well so can steer them in the right direction to ensure they receive something fabulous.
This prompted the idea for the Maggie Killick Style Gift Card. The card can be purchased for a specific service: a personal shop/finishing touches service or a re-work your wardrobe service or can be used to have a beautiful piece made from the collection. Alternatively the recipient can choose how to spend the card - whatever they decide - it's a fabulous gift.
The card is packaged beautifully in a black Maggie Killick Style gift card where you can add your own personal message. It is sent in a ruby red envelope with black ribbon – stylish and chic – job done!
You will find prices of my services and for each piece from the Collection on my website. Gift cards can be purchased from £25 upwards. If you would like to order your gift card or to receive more information before purchasing please click here.
Alternatively feel free to forward this e-mail to your partner, family or friend if you need to drop a hint – I assure you they will thank you for taking the pain out of finding the perfect gift for you.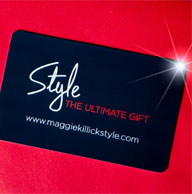 Have a great week-end and feel free to share this post.