Luxurious Velvet – it's more versatile than you think
Chances are you'll either love or hate velvet. I, along with my friends Valentino and Dior, love it! Those of you who are not fans, keep reading as I may tempt you to join us in wearing it this Autumn/Winter.
This season designers' favoured muted velvet shades such as pale pink and taupe as well as rich shades of midnight blue and burgundy, which makes the trend more wearable. They also carried the trend through to footwear which the high-street has embraced. So, if you are someone who only sees velvet as a fabric worn for special events and Christmas party season – why not reconsider? In my style opinion it is best worn in a much more casual way with knitwear and denim and this season the easiest way to wear it is on your feet.
Check out the gorgeous velvet footwear below for inspiration. Add your favourite cuffed jeans and a fabulous oversized cashmere jumper. Velvet shoes may not be the most practical for autumn/winter BUT they're gorgeous so who really needs practical?
Ok, ok, if you need a little more practicality, why not opt for some gorgeous burgundy velvet plimsolls – equally stylish with jeans, and comfortable – you're welcome.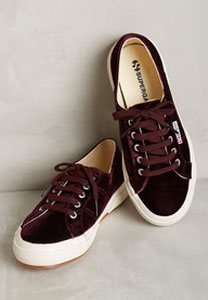 Have a great week-end and feel free to share this post.